"All night long, all niggggghhttt, All night long"… That Lionel Richie song was playing in the studio the other day and I thought it was the perfect tune for …Because dance fitness classes typically last for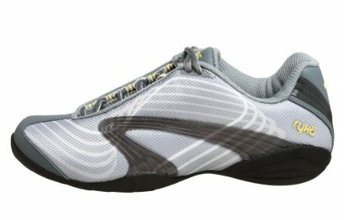 A Quick Rundown Review of the Ryka Studio D
I gotta say that I have a lot of love for the Ryka Studio D. It's been around for a couple of years and it is still considered to be one of the better dance fitness/aerobics sneakers around. People love it and this goes to show that it has a pretty good design and works perfectly for dancing or related activities. I give this the thumbs up, but check out the review if you want to find out a bit more.
These Shoes are Suited for What Exactly?
If you are doing any dance inspired classes such as Jazzercise or Zumba, then this sneaker is perfect. These sneakers are designed for dancing and therefore, they will not have excessive grip, which will make lateral moves and turns easy to do. You can essentially become Beyonce when it comes to the dancing, that's how amazing these dancing shoes are. However, because of the relatively smooth bottom, I would not wear them to run or train in, you would be looking for an injury or a disaster if you did. These are specifically dance sneakers, so let's keep them in the studio please!
Yes it is Comfortable!
Think about it? While dancing, you are definitely going to want to shoe that will not cost you any discomfort, while also giving you good cushioning when you are dancing, jumping or doing whatever move you typically do in your dance class. The shoe is designed to be comfortable and you can see this in the cushioning in the heel and forefoot a well as around the shoe. When you wear the shoe, you are going to appreciate how comfortable it is and I think you might actually feel guilty for getting such a well cushioned sneaker for such a low price.
Great Support for Dancing
When you are dancing, you are definitely going to want a shoe that will keep your feet secure and in place. The Ryka Studio D dance shoe is capable of doing that, as it was designed for intense and high impact activities that are commonplace in these dance aerobics/fitness classes.
I Love the Look of It!
You know, looking on the picture, you can tell that this is an awesome look sneaker. However, when you see them in person on your feet, you are going to love them even more. The design is sleek, stylish and very trendy. This shoe will look good with any gym or dance outfit you want to wear it with, I really like how it looks and I am positive that you are going to appreciate its design and general look.
My Final View
If you are looking for a solid dance fitness sneaker, then you can't go wrong with the Ryka Studio D. It is a pretty neat shoe and you are going to enjoy wearing them. My final score on the shoe is A.
Stand Out Features of the Ryka Studio D Dance Shoe
You can get a look at all of the features of the shoe down below.
Dance inspired sneaker, perfect for fitness classes such as Jazzercise and Zumba.
Comfortable sneaker thanks to the lightly padded collar – This will give support and comfort to the feet.
Nice lacing system that will give a good fit and feel.
Comes with a foam padded tongue for extra cushioning
You will find excellent cushioning in the heel and forefoot
Has excellent shock absorption and cushioning, thanks to the EVA midsole.
Great support.
Nice modern design
Nitracel sockliner
Weighs only 8 oz – This means the shoe is pretty lightweight and you can be sure it is not bulky and weighty.
See What Others are Saying About the Ryka Studio D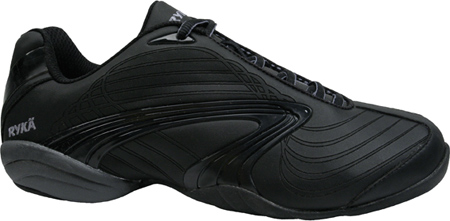 It's not just us who thinks that these shoes are awesome. Just take a look at a couple reviews from across the web and you are going to see the same thing. The shoe gets either 5/5, 4.5/5 or 4/5 stars. This indicates that it is a pretty good workout/dance sneaker.
Anonymous – "Comfort – These shoes are great, good arch support, I wear them for kickboxing, and my feet are probably the only thing not hurting when I'm done. ;)" Zappos.com
Kathy Jacobson – "Needing orthotics for sports, this is the shoe I use only for Zumba and no added support is needed. The soles allow you to move smoothly when doing dance steps. I do not recommend for long distance walking." Amazon.com
Marilyn S – "MY FIFTH PAIR OF THIS STYLE – As I've said before in my past reviews of this same sneaker: putting my feet into this shoe is like putting my head on my pillow…aahh" Zappos.com
Jazzerbunny –  "Give them time to adapt to your workout. I love the look, and the soles work perfectly for the type of work out that I do. I tend to stand on my outer foot and small toes, so I was concerned about lack of support. However, I feel confident that I will be wearing these shoes for a long time. And buying more!" Onlineshoes.com
Ryka Studio D for Zumba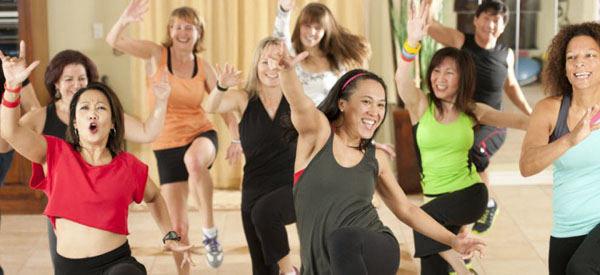 So would I recommend the Ryka Studio D for Zumba? Well if you take a look at my Zumba shoe guide, you will see that I have it ranked in the top 10. The reason why I give it such high marks as "must-buy" footwear for dance aerobics classes would be the fact that it has all the necessary features. It is very comfortable, has great support, flexible and best of all, it is designed specifically to handle dance. So it gets high grades just because it will perform just fine whether you are dancing to merengue, salsa or high tempo jazz.
A claim can be made that it is one of the best Ryka Zumba shoes, but I think that will boil down to your personal taste.
Ryka Studio D Colors
If there is one thing that I do not like about the shoe, is that it is not available in other colors. Right now, you can only get it in either black or white This is a gripe that others have expressed and Ryka dropped the ball in that department.
You will be able to get this sneaker in:
Black/Gun Metal
Granite/Gun Metal/White
You are moving, you're shaking, you're jumping, you're twisting, you're turning and you are feeling GREAT! Enjoy dancing even more with the right shoe like the Nike Musique IV.
The Musique is a great option for those who are looking for an all-round dance shoe that will not fall apart or hurt the feet. It is a pretty good sneaker
A Quick Review of the Sneaker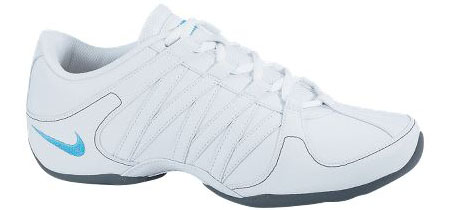 If you take a look at the Nike Musique series, you can see that they have released quite a few shoes. Over the years, the most popular one has been the Musique IV, there must be a reason why the shoe is so awesome and in-demand so long after its first release date.
Designed Just for Dance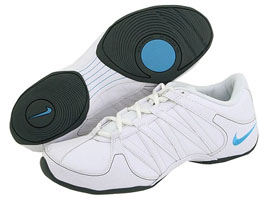 The big reason why this is such an awesome dance shoe is that it is designed with dancers in mind. As such, you are going to get pivot points on the outsole of the shoe. These pivot points are cool, just because it makes turning and twisting that much easier. If you have taken a dance class, then you know there will be a lot of that going on.
Comfort is extremely important in a dance shoe and right here is where the Musique is able to shine.  The shoe features a Phylon midsole that will be able to handle the high impact that comes with dancing. You will not have to worry about aches and pains as the shoe is properly design with comfort and cushioning and the forefront.
The shoe is great for supporting the feet and this is absolutely necessary when doing dance. There are synthetic overlays which will keep the feet in place. There is also great support in the heel and forefoot. If you want a shoe that will keep your feet secure, then the Musique IV is up to the task.
Looks Great
Let's face it, even though you want a shoe that is comfortable and supportive, you also do not want one that looks awful on the feet. The Nike Musique IV Dance Shoe is a pretty stylish sneaker that will look great with whatever you wear it with. It has a very modern look and is very sleek and cute. It also helps that the colors that it is available all work nicely with the shoe.
Conclusion
There are a ton of dance sneakers on the market to choose from and all of them have their pros and their cons. If you are looking for near-perfect dance sneaker, then the Nike Musique  is one of the better, if not the best option available. You are going to love this shoe and while you are having fun dancing, you are going to be so happy with your purchase.
What Others Are Saying About the Nike Musique IV
Jramey – " love these shoes . They are very comfortable and I use them for Zumba and other aerobic classes" ((Jramey. (2011, May 13). "Nike Musique VI Women's Dance Shoe Review". Nike.com. Retrieved 2012-05-18))
Features of the Nike Musique IV Dance Shoe
The Musique is an awesome sneaker, we have already established that, it is great on the feet, has excellent support and cushioning, it is just a good dance shoe. To get a better understanding, you can take a look at the different features that the sneaker has.
Upper of the shoe allows of amazing comfort while dancing.
Great added support thanks in part to the synthetic overlays.
Extra stability due to the double-lasted forefoot and heel.
The shoe features a lacing system, which will allow it to have a great fit and feel.
The shoe is extremely breathable thanks to the mesh lining.
Comfort and cushioning comes courtesy of the Phylon midsole.
Pivot point under the sneaker
Great traction thanks to the Non-marking rubber outsole
Weighs only 9 oz.
Is the Nike Musique IV a Good Zumba Shoe?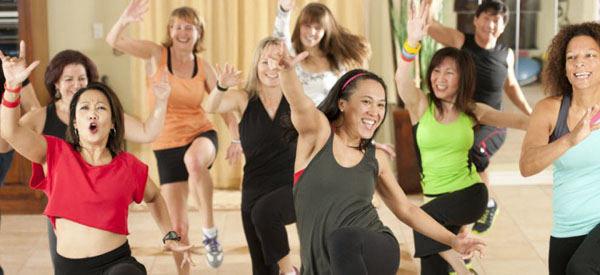 The majority of the people who buy the Musique will be using it in dance related classes such as Zumba. So does this shoe make the cut as a great Zumba sneaker? This shoe not only makes the cut, but it is at the top of the list for me.
Everybody loves this shoe for Zumba, just because of the features it has. As I stated, the shoe is very flexible, lightweight, supportive and comfortable, all necessary features that are necessary in Zumba shoes. It also features the pivot point, so this makes it even easier to pull off dance moves. When you combine all those wonderful features together, the end result is a shoe that many consider the best for the class.
I wrote an article earlier on the best Nike shoes for Zumba and it beats out everything on the list by a huge margin.
Available Colors
The Nike Musique IV Cross Training Sneaker is a pretty simple sneaker, even though it is so good. It is not available in a ton of colors, but the colors that are available will work just fine.
You will be able to get these dance shoes in colors such as:
What Color I Like the Most? – I would say the white is the best color. It has a very sleek look to it and it also enhances the wonderful design. This white option also makes it a pretty good choice for cheerleading.
Did you know that over the past couple of years, the Nike Musique Women's Dance Shoe is considered to be one of the best dance shoes out? There have been a number of releases and it has continued to be a staple on dancers feet all across the country.
The Nike Musique Series
There have been a bunch of Nike Musique Dance Shoes released over the years and some have had tremendous success, while others have been a total failure. Each shoe released in the collection is blessed to be a total dance shoe that not only has great performance, but is also very stylish.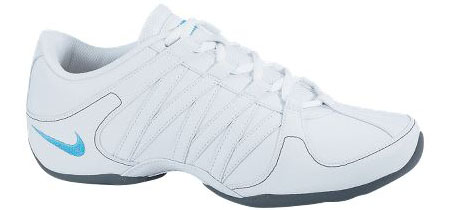 Nike Musique IV – If you want to talk about an almost perfect dance shoe, then the IV is it. This sneaker is absolutely amazing and it has everything going for it from the look to the performance. This shoe is still being produced today, years after it was first released and that must be a testament to its amazing design and awesome look. This sneaker is really great for dance as it has excellent support and cushioning, as well as making it very easy to pull off dance moves. The great thing is this shoe is still available.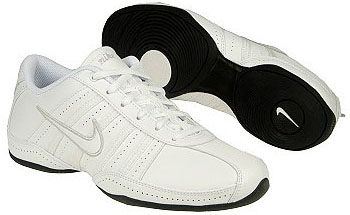 Nike Musique III – Another favorite among the dance community is the III's. It has a very clean and sleek look, but not as breathtaking as the IV's. Performance wise, it is solid and it will make that dance class, that much easier. They are fun to move around in and if you want a really good dance sneaker, then this is a great option.
The Others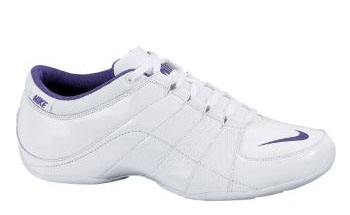 Nike Musique V – For some reason the V was unable to capture the popularity that the IV had established. After its release, it was on the market for a little while, then poof, it disappeared like that piece of cheesecake you had in your fridge.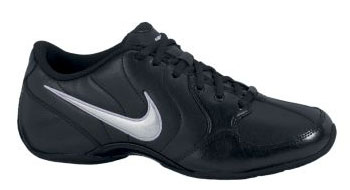 Nike Musique VI – Like the V, the VI had a very short run. It was pretty easy to see why, as nobody liked the shoe. The reviews were awful and whatever improvements Nike decided to make, it did not go down well with the buying public. According to one reviewer on Nike.com, "this shoes need to be taken off the shelves ". ((MichelleinFWTx. (2010, April 28). "Nike Musique VI Women's Dance Shoe". Nike.com. Retrieved 2012-05-18))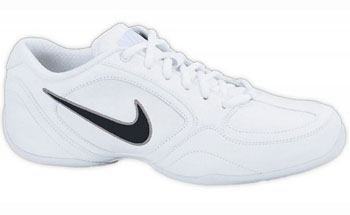 Nike Musique VII – The newest from the collection and I have yet to have an opinion on them. There are mixed reports with the shoe, with some people hating them and some people loving them. Once there is more information available, then I can know if this particular model is a #win or a #fail.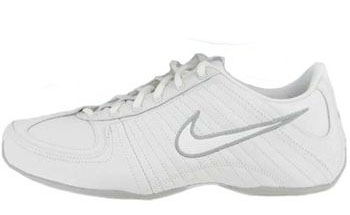 Nike Musique Cheer – Nike capitalized on the booming cheerleading shoe market by releasing the Musique Cheer. This shoe was exceptional as it had a nice sporty and clean look, as well as being very supportive, comfortable and lightweight. This was a big hit in the cheerleading community and it was highly recommended as a must have sneaker for the sport.
Is the Nike Musique a Good Zumba Shoe?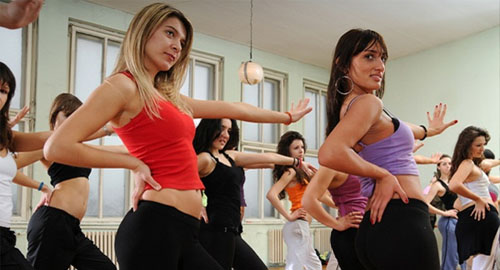 If you're to ask any Zumba instructor, the majority of them would say that one of the best shoes for this dance aerobics class would be the Nike Musique Cross Trainer Dance Shoes. As I stated above, the Musique has been on top of everyone's list as one of the best shoes for Zumba.
So what makes this sneaker such a good option for this dance aerobics class? Well, the shoe is designed specifically for dancing. This means that it is going to be extremely comfortable, as well as be very lightweight, very flexible and also it's supportive. After you dance in them for a couple classes, you are going to understand the difference between wearing a sneaker that is designed for a dance, as opposed to the general crosstraining shoe. The biggest selling point is that there are pivot points underneath on the outsole of the shoe. These pivot points are essential, as it makes twisting and turning that much easier. These are common moves that you're going to be doing in dance classes, so having a shoe that has it is a must.
I highly recommend both the Nike Musique III and IV as some of the best Nike Zumba shoes available. You will be getting some amazing footwear that will be able to handle the general up and down nature of typical dance classes.
Nike Musique Colors
Throughout the series, the Musique has stuck to the same colors. Nike has been known to create shoes that are very out there in the color spectrum, but this is not the case with this particular collection. Because they are dance sneakers and can be worn in cheerleading, the colors are very toned down..
So the more popular colors that you will find will be
White – White is the most popular color and it really gives the sneaker its charm. All-white is a favorite, but depending on style, there is also white and pink, white and blue, white and purple.
Black – How can you go wrong with a black shoe! All black as well as black and purple are the two popular color options.
Gray – This is another popular color and depending on the style you can find this shoe in metallic gray, gray and pink, gray and blue, gray and white.
Are These Shoes Available For Men & Kids
If there is one thing I should say about the Musique is that it is a really popular sneaker. Because of its popularity you will often find men and children wanting to get a pair of these dance shoes. Unfortunately, the Nike Musique is not available for men or children. I do not know if Nike will make them available for everyone in the future, but right now it's all for the girlies.
In my ultimate Zumba shoe guide, I highlighted that Puma was a great collection to check out for those of you who are doing dance aerobics classes like Zumba.
Puma has a pretty good reputation for making high quality athletic gear, including shoes, so whatever they produce will be a quality product. The company has been outshined by other shoe manufacturers like Nike, Adidas and Reebok to name a few. Nonetheless, their footwear is really awesome
The Best Puma Zumba Shoes 2012
There isn't a massive selection of dance sneakers from Puma, but that means you are getting quality over quantity. Below I have selected the Puma sneakers that would be the best shoe options for Zumba dance.
Puma Voltaic 3 NM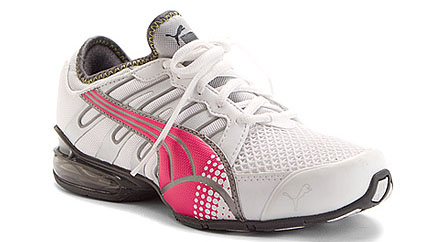 The Puma Voltaic 3 comes in as a great choice for Zumba dance aerobics. This is a sneaker that is designed specifically for running, but because of the cushioning it has, it makes it a good choice to dance in. It has all the features that are necessary for a dance aerobics shoe, from being lightweight, flexible and supportive.
Pros: Supportive, comfortable and lightweight.
Cons: Might be a bit bulky.
Puma PUMAgility XT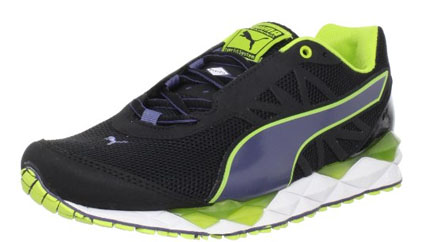 The PUMAgility is a pretty comfortable and stylish sneaker. It has excellent cushioning which makes it great to handle the high impact dance moves. Even though it is a running (see my warning about running shoes below), it is an ideal choice for Zumba dance. The traction is not too much, which means you will not stick to the floor when doing your moves.
Pros: Comfortable and lightweight.
Cons: Might not be stylish enough like some of the other Zumba shoes out there.
Puma Janine Dance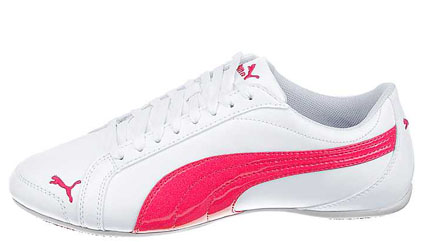 The Puma Janine is one sneaker that is designed specifically for dance. This is a must buy if you are looking for some Puma shoes for Zumba. These are lightweight footwear that's very comfortable as well as supportive. One of the big things is that there is a pivot point under the outsole of the shoe. This is means it will be easier to move about, as well as pull off turns.
Pros: Designed specifically for dance classes. Has a pivot point.
Cons: Not over the top stylish.
Puma OSU NM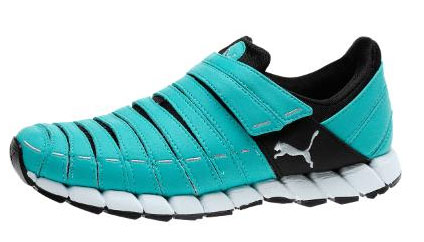 The OSU NM has a pretty nice design to it and this is something that will not only catch the eyes, but it will look good with gym attire. This is an athletic sneaker that has great support, as well as having an excellent cushioning system. If you want comfort, then this is the way to go. It is also very breathable and has great support.
Pros: Nicely designed, comfortable, supportive, breathable and flexible.
Cons: Wish there were more colors. Colors may not be appealing to everyone.
Puma Trainlite XT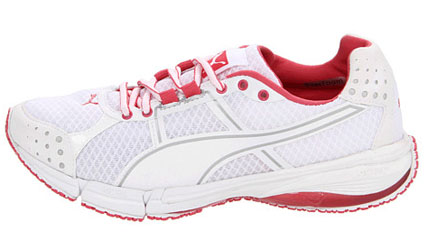 If you are looking for a multi-funcational training shoe then the Trainlite XT is it. This shoe can be worn to the gym, to run and is perfect for Zumba. Comfort is its biggest selling point, so you know it will have a good fit on the feet. In terms of support, there are mutli-directional flex grooves which makes movement a breeze.
Pros: A Really comfortable sneaker. Has a nice design to it.
Cons: Very limited colors.
Forget Puma Running Shoes
When it comes to Zumba shoes, you should definitely stay away from running sneakers. You see, running shoes are designed to give you a lot more grip as you are going to need that amount of traction when doing that intense activity. As it relates to Zumba, the downside to having too much traction is a big problem. In Zumba dance, you are going to be doing various moves from dancing, turning and jumping. Because of this, you are going to want a shoe that will allow you to do this moves with ease, as opposed to be stuck. Having a shoe can also lead to injury.
Features to Look for When Choosing shoes for Zumba.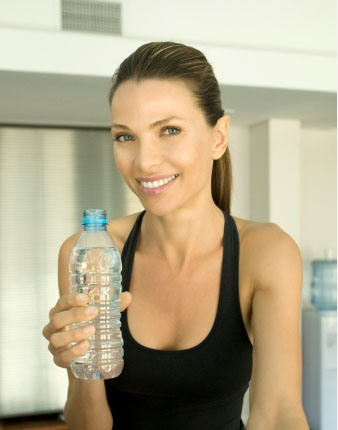 There are certain features that your shoe should have for Zumba dance. I go into detail in my Zumba dance shoe guide, but I will give a quick overview here.
The Shoe Must be Comfortable – Let's face it, you are going to be doing intense physical activity and your feet are going to be bearing the burden of all the dancing and jumping. It is very important that you have shoes that are comfortable and will not hurt your feet after dancing around for an hour. It only makes logical sense to go after a sneaker that is comfortable.
Light – Many people do not take the weight of the shoe into consideration when they go looking for Zumba footwear. Just remember that you will be working out and you do not want to have shoes that will begin to feel like bricks on the feet after a couple of minutes. Luckily, most modern sneakers are lightweight, but this is something to remember when you are going shoe shopping.
Flexible – A rigid sneaker will cause you nothing but heartbreak in your Zumba dance class. When you have a flexible shoe, your feet will be able to twist and move easily, keeping up with the myriad of dance moves that come along with the class. This is why athletic or shoes designed specifically for dance aerobics are important, as they are some of the most flexible sneakers available.
Support – Most sneakers will be able to give you the support you need, but it is still an important feature to consider. You will definitely want a sneaker that will keep the feet in place, especially when you are doing all those moves.
Did you know that the Vans Authentic has been around for almost 50 years? This style shoe is classic in every sense of the word and it is made even better by being available in a variety of colors, one being pink. With this unisex shoe being available in this color, you will be able to style and jazz up any outfit you can think of. Both boys and girls can take advantage of this awesome color and it will look really great on the feet. You will often find this shoe being worn with jeans or shorts. Depending on how stylish the individual is, they can wear it with to just about anything.
Pink Vans Authentic Lo Pro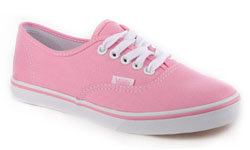 Because pink is such a girly color, it is at given that the Authentic Lo Pro be available in pink. This pink sneaker has a really exquisite look to it and it helps to give the shoe a cool sense of style. Girls love this style of shoe, just because it is the perfect complement to whatever outfit they are thinking of wearing it with.
Kids
The kids will have this shoe available in pink. This is also available for infants and toddlers. Because pink is typically a color for girls, you will find a ton of color variations available for them. There are some pink Authentics which will have hearts, girly designs and also glitter. This is actually a pretty good shoe for little girls.
Colors
There are many different color styles of Pink Vans Authentic's available. Generally the light pink is the most common, but you will be able to get Neon Pink, Pink and Black and Pink and Blue to name a few.