The Vans has been around for close to 50 years and the first shoe that they released was the Authentic. This sneaker was aimed at the surf and skate culture and it was a huge hit in those circles. Over the years, the popularity has grown and it is now regarded as a sneaker that every has to have.
The design is very simplistic, yet it looks really good on the feet. It has a nice skater shoe feel to it, with a very low lace up profile. What really stands out however is the signature waffle rubber soles.
Vans Authentic Lo Pro
Although the Vans Authentic is a unisex shoe, girls may want a more feminine look. In that case, the Authentic Lo Pro is a much better option. It has the same stylish look, just that it is much more feminine. The Lo Pro is extremely fashionable and it is the ideal casual sneaker for the girl that loves to have fun. These shoes can be worn in any setting with just about anything, from jeans, shorts and skirts.
Vans Authentic Kids
The little ones can get with this stylish footwear, as there is a Vans Authentic line for kids. The kids collection is just like the adult one, except that it is catered to children. You will find a ton of funky designs, some specifically for little boys and girls. There are also Authentics for babies and toddlers.
Are Vans Authentic for Boys or Girls?

There are a lot of people who are always asking us if these shoes are designed specifically for boys or girls? This sneaker is unisex, so there should be no problems with boys or girls wearing them. There may be some colors or styles that are released which will cater to boys, while there are some that you can tell are definitely for girls.
Vans Authentic Colors
One of the biggest things the shoe has going for it would be the awesome colors that it is available in. Because there are soooo many color options, you will often find that people own multiple pairs. Because of the shoe's nice design, it really might be a good idea to pick up the Authentic in multiple color ways.
Special Editions
Every year a bunch of Special Editions are released. This not only give collectors something to go crazy for, but it also helps to give the shoe a fresh design.
Image Sources
OUCHcharley. ITS SPRING! (explored) :]. March 22, 2009. Online image. Flikr.com. 14 April 2012.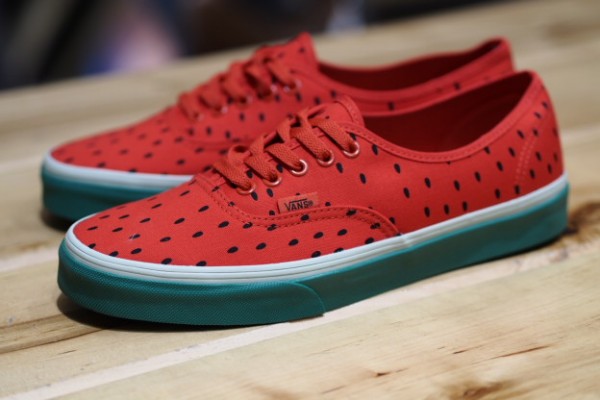 It seems that summer is officially here with the re-release of the Vans Watermelon Authentic. This design was released in 2009 (see below) and it is not getting a reissue, just in time for the summer!!! The name says it all, as essentially you will be looking at a watermelon sneaker. Bright green sole, red upper, sprinkled with black seed dots. This is a real eye catcher and the perfect complement for those hot summer days.
There are some people who think that these shoes are sick and a must cop, while others think that they are too fruity (no pun intended). Whatever your viewpoint, at the end of the day they are some funky shoes. If you want to stand out stylishly or just want a conversation starter, then you will certainly need to have a pair.
So what about the women? – The Vans Watermelon Authentic's is a unisex shoe, so both women and men can enjoy this fruit filled masterpiece.
Where Will I Be Able to Get it? – Once released you should be able to get these shoes at Vans stores or major retailers. You can also check here to see what deals we can dig up.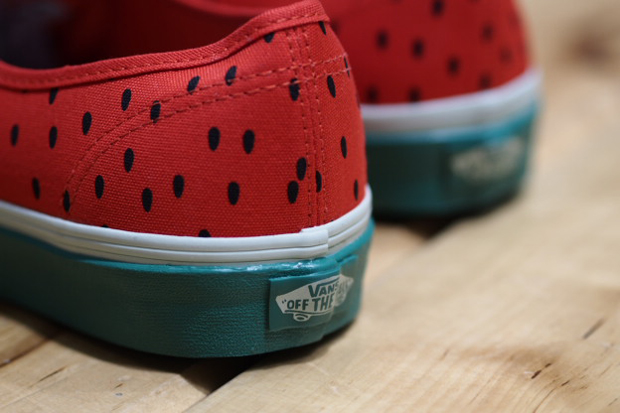 A Look Back at the 09 Vans Watermelon Collection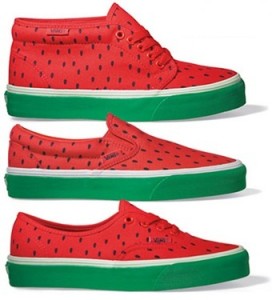 The limited edition Vans Watermelon Shoe collection was released in 2009 to much fanfare and anticipation. I mean, who would not love to have to have some watermelon shoes on the feet. This collection featured the Watermelon version of the Authentic, Classic Slip on and Chukka. A runaway hit at the time.
Check Out This Unboxing of the Chukka
I am sure we all know the feeling of taking those brand new shoes out of the box and enjoying its magnificent beauty. For those of you who are thinking of getting the watermelon Authentic's, then give this video a look.

The Betsey Johnson Caylin Boot is definitely considered to be one of the best and most stylish boots on the marketplace today. If you're looking for something very stylish and fashionable, then this boot is certainly the way to go. It has a very wonderful design and one thing I can say for certain, is that it looks simply amazing on the feet. I'm absolutely positive that whatever you wear this boot with, it will basically add a bit of oomph to any outfit. Another great thing about the boots, is that you are definitely going to garner a lot of compliments.
This is a military style boots and as such, it is very off and rugged. It has a tough exterior, but do not let that fool you. It is very womanly and this is part of its allure. Women will wear this with just about any outfit and even though it has that rugged look, it still looks really nice.
Boot Colors: This boot is available in three different colors. Black, blue and green are what you can get them in.
Features: if you like boots that have a very high heel, then you will be drawn to the Caylin. The heel is 5 inches high and this makes it you really tall boot. There is even more height from the base platform, which comes in at 1.5 inches. The circumference of the boot is 12 inches and the shaft is around 7.5 inches.
Sizes: You can take comfort that this book is available in various half sizes. You can purchase it from 5 1/2 to 10.
If you are looking for a high performance running shoe this year, then the Nike Free Run 2 is one sneaker that you need to have on your list. This is going to be one of the most popular running shoes for 2011, as it is as close to perfection as one can get. This shoe has all of the features that make it one of the best on the market today. It is lightweight, comfortable, flexible, supportive and stylish. If you get this sneaker, you are not going to regret it, I can guarantee it.
The Nike Free Run+ 2 Review
When it comes to athletic sneakers, you already know that Nike has a very good reputation for making high quality footwear. The Nike Free Run+ 2 continues in the footwear makers tradition and …….There is really so much to say about the shoe, but a few words to sum up the sneaker are "AWESOME", AMAZING", "SUPERB" and "OUTSTANDING". These shoes are all of that plus a bag of chips. I am not heavily into running shoes, but the way these Free Run's fit on my feet, I can certainly say that I have never experienced nothing like them in my life.
tudies suggest that barefoot runners develop stronger feet. Natural motion builds strength, and strength means speed. NikeFree is all about speed. But first you'll need to build your muscles, because NikeFree takes some getting used to. Deep cuts in the outsole mean your feet flex and move the way they would if you were barefoot.
The Nike Free Run 2 has many different features and characteristics. The good thing is that they all blend seamlessly together to deliver a sneaker that is lightweight, comfortable, flexible, supportive and best of all stylish.
Lightweight
If you want a really lightweight sneaker, then the Nike Free Run 2's are some of the lightest available. The shoe weighs 9 oz and sometimes it feels as if you are wearing nothing at all. Nike's use of a Phylite midsole will ensure that the sneaker not only is able to handle ……
Cushioning
The cushioning of the shoe makes it really comfortable to run in. The cushioning will allow the foot to have a nice ride, without reducing the general barefoot feel of the shoe. The comfort of the shoe is enhanced even more as the midsole and the outsole are fused together with Phylite material. What you have is a one piece design that is kind of like sock. This is able to take the shape of the foot, which results in a supportive and comfortable fit.
Flexibility
I absolutely love the flexibility that the shoe is able to deliver. The foot is certainly not restricted and you will be able to move the foot naturally as if you had no shoes on at all. This is possible due to the flex grooves that can be found along the outsole. The heel features a "center of pressure" design that provides additional cushioning on contact, maximizing overall flexibility.
Support
Designed to keep the foot in place without restricting movement, the Nike Free Run+ 2 features bonded overlays for excellent support. Lightweight and flexible, these thin strips are attached to the mesh upper for a streamlined fit. The inner sleeve provides a snug feel, yet it's dynamic enough to move with the natural motion of the foot.
Stylish
What pushes this shoe over the top for many people is the funky and eye catching design. Nike shoes always look good on the feet and these Free's are no different. The modern look is very sleek and sophisticated and they really enhance whatever outfit you are wearing. There are so many fashionable colorways available, it is actually kind of hard to choose just one. There are actually people who have bought a pair and loved the colors so much, that they decided that they needed another one in a different style. The shoe really stands out and I am sure you will be getting a lot of compliments if you get a pair.
Conclusion
My final analysis is that the Nike Free Run+ 2 is a really amazing shoe. The design is certainly top-notch and I am glad that Nike spent 8 years researching barefoot running. Putting on these shoes gives your feet such a liberating feeling, not only because they are lightweight and comfortable, but because of the way the shoe is able to simulate like you are walking/running barefoot. All of the features really work together and the end result is a shoe that you definitely need to own. If you are running, walking or just want a sneaker for casual wear, the Nike Free Run 2 is certainly the one to have.
Inner sleeve for a snug fit and enhanced breathability
Bonded synthetic overlays for super-strong, flexible support
Fused Phylite midsole and outsole for an ultra-lightweight, resilient ride
Deep flex grooves along the outsole for natural range of motion and flexibility
Feature Overview of the Nike Free Run 2
Here is an overview of some of the features that can be found on the Nike Free Run 2.
An ideal running shoe for a wide range of runners. It provides the strengthening and natural gait management benefits associated with barefoot training, while offering the necessary cushioning, traction and underfoot protection.
Combination mesh and supportive synthetic leather uppers are both lightweight, yet hardy. An innovative design bonds narrow strips of the two materials together in key support areas, increasing durability and eliminating excess material.
Asymmetrical lacing minimizes pressure over the top of the foot for increased comfort.
Lightly padded tongue and collar for added comfort and support.
Innersleeve envelops the entire foot, offering a glove-like fit.
Molded insole offers great step-in feel, heightened comfort and support.
Phylite midsole is highly resilient and durable enough to double as an outsole, drastically reducing the overall weight.
Ultra-high resolution siping pattern promotes an exceptionally smooth, naturally neutral ride.
Center-of-pressure heel construction delivers cushion upon impact without affecting flexibility or transition.
Abrasion resistant BRS 1,000 carbon rubber for heightened durability in high-wear areas.
Waffle pistons on the outsole work in conjunction with the Phylite midsole by absorbing impacting shock, yet being resilient enough to then return to their original shape.
Strategically placed segments of solid rubber enhance traction in high-wear areas.
What Others Are Saying About the Nike Free Run 2!
I am sure I provided a good overview into the general performance, look and feel of the Nike Free Run 2. For those of you who may need a bit more convincing, then you should also take what other owners are saying about this shoe. This shoe is getting nothing but high ratings from people who have worn and run in the shoe. Reviewers on Zappos.com give it 5/5 stars. Reviewers on Nike.com also give it 4.65/5.
Here are what a few of the reviewers have to say:
D3Daddy– "A former Air Max fan but I have recently changed my stripes and have become a Free Fan. These are comfortable, light, great for running and or gym training"
Benp – "Right out of the box , no break in time needed, they were super comfy and man do they look cool I love these shoes!"
Sbarneby – "I love running in these shoes; they are light weight and flexible so I don't feel any resistnce to how my foot wants to move during each stride."
Tabia Y – "These shoes are probably the most comfortable shoes I've ever purchased. They are good for running and long walks. I have flat feet so I can feel the arch support."
Hcarroll23 – "This shoe is one of the best training shoes on the market. It is extremely lightweight, very durable, and also very comfortable. Honestly, this shoe has made me excited to go for a run."
Is working out a pain or fun? I guess the answer really depends on who you ask. At the end of the day, working out is important to keep ourselves in-shape and healthy. If you find working out fun, then you know the enjoyment can be short-lived if you do not have the right shoes. One sneaker that is standing out from the others is the Nike Free TR Fit 2.
The Nike Free TR Fit Women's Training Shoe Review
When you read reviews, you want to A. be absolutely sure you are buying the right shoe or B. find out if this sneaker is for you. Right off the bat I can tell you that whatever you are trying to find out about this shoe, you will not be disappointed.
Close your eyes and think back to all the shoes in your life that have hurt your feet, pinched your toes, or caused some other type of pain. Not good memories huh? With that in mind, comfort is by far the most important thing when choosing a shoe. When you put your foot inside the Nike Free TR Fit 2 training shoe, you will be getting outstanding cushioning and a very comfy fit. The shoe features a Phylite midsole which will add a level of comfort, while also adding the overall light weight of the shoe. There is a foam padded collar, which will help to give the feet secure, as well as feeling comfy.
The shoe is super-duper-duper lightweight. It only weighs 7 ounces, so it almost feels as if you have nothing on. Having a lightweight sneaker is very important when you are training, as it will make you more nimble on your feet. If you
I really like the fact that Nike spends a good amount of time researching their shoes and as such, you will typically be getting a great product. This is an excellent training shoe and you will be able to benefit from the shoes barefoot flexibility as well as well as its good support. When you have these shoes on, you will feel as if you can do anything in them. You can run, jump, move side to side, exercise and dance. The shoe features multi-directional support, so you can essentially wear it to do anything.
If you love fashion and you also love to work out, then these shoes were made with you in mind J When you take them out the box you are going to be "WOW". When you try them on for the first time, you are going to be like "WOW". When you wear them out for the first time, be prepared for a lot of "WOW, What Do You Have On". The TR Fit 2 are some really fashionable sneakers and everything works from the design all the way to the many different colors.
My Final Thoughts
I really really like the Nike Free TR Fit 2 shoe. There are a ton of training sneakers available, but this one does everything right, plus more. Think of i? it is a pretty stylish and has all the features that you want in a sneaker, why would you not go and get a pair now?
Information on the Nike Free TR Fit 2
Here is an overview that will highlight some of the features that can be found on this sneaker.
The upper is a combination of synthetic leather as well as a breathable air mesh, which results in a shoe that has lightweight support and breathable.
There is a foam-padded collar that will help to give the shoe a comfy feel, as well as allowing it to fit snugly on the feet.
There should be no worries about the shoe pinching you, as it features a one-piece, no-sew upper. This also adds flexibility to the shoe and also allows for the natural motion.
There is a neoprene heel counter that will offer support and flexibility.
A great internal structural system for support is available and this works well, especially if you are planning on doing multidirectional moves.
The shoe has a Phylite midsole which will offer great cushioning.
There is barefoot like flexibility thanks to the shoe utilizing the Nike Free system.
If you are planning on running in low light conditions, there is reflective material on the shoe.
You will get multidirectional traction on different surfaces, thanks to rubber pods that are located on the forefoot and heel of the shoe.
Lightweight sneaker, only weighing 7 oz.
What Others Are Saying About the Nike Free TR Fit 2!
After reading through our review I am positive that you are going to want to get a pair for yourself. If you need some more convincing, then it is a good idea to see what other people are saying about this particular shoe. On other websites, the shoe is getting nothing but rave reviews. Zappos.com reviewers give it 4.75/5, while Nike.com reviewers give it 4.8/5.
Hmunyer – "I love these shoes to train in. They are lightweight, breathable, and have a flat enough sole that you can really dig your toes in when and where you need to."
Alder B – "Absolutely love these shoes! They are super flexible so someone with small feet (like me) find these especially comfy. "
Reviewer – "These shoes are very light-weight and comfortable; like wearing slippers. However, there is very little support"
Nkdot – "The shoes move with me and are extremely light. I love them and am so happy I finally found a shoes that suites me!""
Allison E – "they're INCREDIBLE. i run faster in them, kick higher, walk faster…. LOVE THEM!!!!"" 
Nike Free TR Fit 2 Colors
Rainbows are a sight to behold, so is multicolored ice-cream. All of these things excite the mind and are a visual feast. When you have shoes that make the eyes light up, then I think you have a good thing. The one thing that I absolutely love about the Nike Free TR Fit 2 would be the exceptional colorways that they have available. If you are a woman who enjoys the spotlight, there are color combos available just for you. If you are more on the reserved side, then guess what? You can find a pair that will fit your personality and overall style.
Is The Nike Free Fit 2 Good for Zumba?
Yes, yes, yes, yes! I have this on my list as one of the best Nike shoes for Zumba dance. It may not be the #1 shoe, but it is pretty good. Remember, in Zumba you are going to dancing up a storm to a pulsating Latin soundtrack. Think of it? You are going to need a shoe that is going to be supportive, stable, comfortable, lightweight and best of all flexible. The TR Fit 2 is able to deliver all of this and more. It also helps that it is capable of handling multidirectional support, as you are going to be moving all over the place.
If you are interested in other types of dance aerobic footwear, then I have a more in-depth article Zumba shoes here.
Is the Nike Free Fit 2 Good for Running?
You will be able to put on these shoes and sprint through the door, run to the grocery store, run those 4 miles and running on the treadmill with ease in these shoes. They are not designed specifically for running, but they will be able to get the job done. It may be a bit difficult at first, as the Nike Free system takes some time to get used to, since it mimics the natural motion of your feet, but once you do, it should be no problem.
If you are looking for a dedicated running shoe, then have a look at the Nike Free collection.