Get a Great Selection of Ryka Transition Sneakers

Getting fit and in shape is the new mantra this year. If you are on the hunt for a new sneaker that is stylish and has excellent performance, then the Ryka Transition is an excellent choice.
If you are looking for a shoe that is perfect for Zumba, or other dance fitness classes, then the Ryka Transition is definitely it. The shoe is able to combine excellent support, cushioning, breathability and stability, to make a shoe that is ideal for studio or dance needs. When wearing the shoes, you will definitely not want anything else.
A Quick Review of the Sneaker
Ryka is a company that has created a sneaker collection that is geared specifically towards women. This is actually pretty good for females, as it can be quite challenging trying to find athletic sneakers that fit the dimensions of a woman's foot.
If you are looking for a shoe that will be able to handle the gym, walking, light running as well as high impact classes such as dance aerobics, Jazzercise or Zumba, then the Ryka Transition is a pretty good option. This sneaker was designed with fitness in mind and as such, you're going to be blown away with the performance that it is able to deliver.
Comfortable
The main thing that stands out is that the shoe is very comfortable. You will be able to work out or dance and not have to worry about your feet hurting you after you're finished. The shoes cushioning comes courtesy of an EVA midsole, which will have your feet set in comfort.
Supportive
The shoe features and I.H.G (Infused Heel Guidance) midsole, which will be able to give added support, especially if you are planning on doing a lot of lateral moves. This means your feet will be held in place when you are making your moves whether in the gym or in the dance class.
Great for Dance
The reason why this is a standout sneaker for dance fitness classes, would be the diamond shaped rubber outsole. This outsole does not excessive grip, which means that you will be able to move around, dance and slide with no problems. This is a must when
Stylish
Another great thing about the Ryka Transition would be the fact that it is an extremely stylish sneaker. If you want a shoe that looks amazing on the feet, then this is it. Many women love its design as well as the many different colors it is available in. If you like fashionable footwear, that has a modern contemporary look, this shoe is the stand out.
Conclusion
Ryka has a nice selection of dance fitness sneakers that are all able to deliver exactly what a woman needs in these classes. With the Ryka Transition being the newest one out there, I can certainly say that it is definitely a must get, especially for those of you who are thinking about doing Zumba.
What Others Are Saying About the Ryka Transition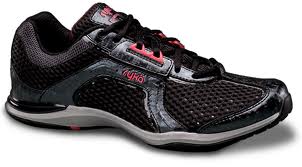 Maria B – "Very lightweight and flexible. I was able to pivot and slide without being held back."
Arrigoni – "I had a hard time finding a good shoe for my zumba class, but I finally hit paydirt when I got the Ryka Transition. It is so comfortable!"
Debbie G – "I have tried several different shoes for my Zumba/Cardio dance classes, and these are by far the very best. They are extremely light, flexible, comfortable and breathable."
Emily F – "These shoes were super cute and light weight. I wore them for one jazzercise class and loved how I was able to move in them."
Features of the Ryka Transition
We can't get over how amazing the Ryka Transition Sneaker is. We already know that that it is very stable, lightweight, supportive and comfortable and this can really be attributed to the technology that is in play with the shoe. Below is a more in-depth look at the different features of the sheo.
The low profile of the sneaker really makes it the ideal fitness trainer.
The shoe is quite breathable, thanks to high density, foam air mesh upper that has synthetic overlays built in. The shoe gets some of the support here and this is responsible for the shoe being really lightweight.
I.H.G. (Infused Heel Guidance) is really responsible for all the lateral support that the shoe has. When you wear the shoe and are doing any of those quick moves, the I.H.G. work together with the midsole to ensure that the foot is always kept in the right position and not sliding all over the place.
The EVA midsole responsible for the amazing cushioning, walking around in these shoes are like a dream.
The shoe has minimal grip, which makes it the ideal candidate for dance fitness classes.
The shoe is not heavy at all, as it weighs in at 9 oz.
Is the Ryka Transition a Good Zumba Shoe?
On this website, I have done a lot of articles related to Zumba shoes. Because I consider myself a guru of sort, I have a good understanding as to which sneakers are great choices for Zumba dance.  Right now, the Transition is highly regarded as one of the better sneakers for any dance aerobics class. It achieved this high rating as it has a proven track record of being comfortable, supportive and flexible. Because it is a training sneaker that is perfect for all sort of dance activities, as well as training, it is a no brainer that it would be a good choice for Zumba.
Available Colors
If there is one thing that stands out about the shoe, you would definitely have to be various colors that it is available in. As I had already stated above, the transition is an extremely stylish sneaker and the different colorways that it is available in, only adds to its awesome look.
You will be able to get this cross-training sneaker in colors such as:
Aqua Sea/Yellow Glow/Deep Navy
Black/Dusk Grey/ Firerose Pink
Tyre Grey/Metallic Platinum/Metallic Baja Purple/White
White/Splash Blue/Yellow Glow
White/Chrome Silver/Fusion Coral/Metallic Steel Grey
What Color I Like the Most? – The two main colors that stand out to me would be the Aqua as well as the White. There is just something about was colors that allows them to give the shoe some awesome style. I am sure many of you who have your favorite color, as it really depends on what you like, as well as what will go well with your workout attire.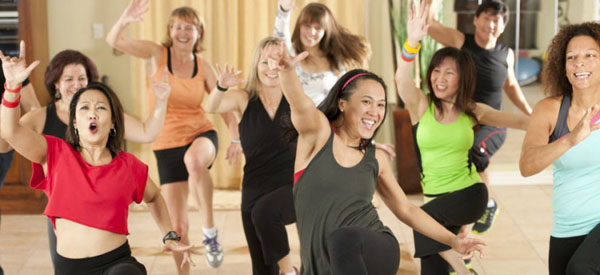 Get Access to Amazing Zumba Shoes

We get a lot of questions at shoenoodles.com, but one common one is people wanting to find out "where they can buy Zumba shoes". There are many different options, but we will list the 3 best choices that are available.
Zappos.com – We are fans of Zappos.com, especially when it comes to purchasing Zumba sneakers. If you ever check out the Zappos website, you are going to realize that they have a huge variety of shoes that are ideal for the Zumba dance fitness class. You really do not need to search all over the internet, as everything that you need is right here. Another thing that I love is the fact that they have a huge selection, but their prices are also really cheap. The last thing that I absolutely love about Zappos.com is that they offer FREE SHIPPING. If you purchase a shoe, it is shipped to you for free. The kicker is that if you do not like it or need to return it, the shipping is also free. Now you can see why we love this store so much.
Athletic Shoe Websites – There are a huge selection of shoe websites out there for you to try and get Zumba shoes. Many of the websites will not have sections dedicated specifically to "Zumba Sneakers". If you are thinking of checking out places such as footlocker.com, footaction.com or thefnishline.com, you should certainly look in the cross training sections. We are not total fans of many of these sites, simply because you have to pay for shipping.
Shoe Stores – Local shoe stores are definitely a good place to go if you are looking to find Zumba shoes. Just like the regular shoe websites, there probably won't be a dedicated section for Zumba sneakers. When shopping, either looking for cross trainers or dance specific sneakers.
If you would like to get more information on Zumba shoes, check out our nifty little guide. I also highlight specific brands for Zumba such as Nike, Ryka and Puma.

Nice Selection of Ryka Zumba Shoes

Let's admit it right now, Zumba is definitely one of best and most fun ways to get yourself in shape and also lose weight. You are dancing, twisting and turning in this class, so it is nothing but fun. It is very important that you have the right equipment, such as shoes when you are doing your Zumba fitness class is the right shoe.
When it comes to the right shoes for the class, you will usually find that a lot of people opt for sneakers that are designed specifically for dance aerobics. In a case like this, one of the better shoe brands out there is Ryka.
Below I have listed the 5 best Ryka shoes which are ideal for Zumba dance aerobics.
Ryka Transition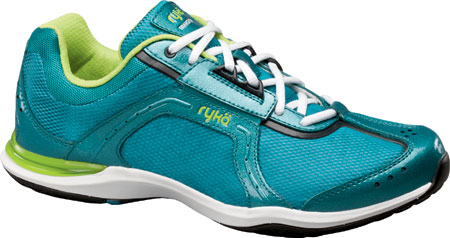 If you are looking for a lightweight and flexible studio trainer, then the Transition is it. Like all Ryka sneakers, the Transition is able to deliver all the performance that is necessary for dance fitness classes such as Zumba. Even though it is a low-profile shoe, the performance and support is top-notch. The air mesh upper delivers a shoe that is breathable and lightweight, yet still has a great deal of support. The cushioning in the shoe is amazing and this can be attributed to its high-density foam collar, as well as the EVA Midsole. A lot of women love the Transition, as it is a nice looking sneaker.
Ryka Studio D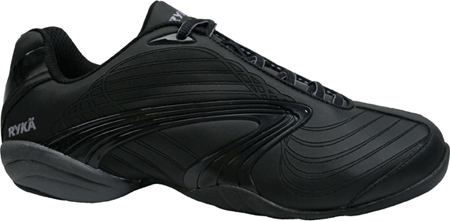 The Stduio D ranks as one of the top 5 shoes out there for Zumba Dance. Thousands of people have purchased a pair, just for this dance aerobics class. What makes this shoe so amazing is that they are created specifically for dance fitness and it performs really well. If you are on the hunt for a sneaker that is comfortable, supportive, flexible, lightweight and stylish, then the Studio D is definitely the sneaker of choice.
Ryka Studio Flex
Women absolutely love the Ryka Studio Flex. This is a training shoe that lightweight, stylish and comfortable. It is one of the best sellers from Ryka and this can be attributed to the experience that it is able to deliver to the wearer. If you are looking for some really amazing Zumba shoes, then the Ryka Studio Flex is a definite must have.
Studio Flex Mid – There is a mid-ankle version available. This particular shoe will be able to deliver added support, for those intense workout sessions.
Ryka Synergy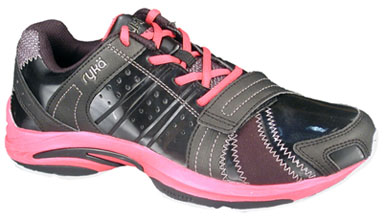 The Synergy is a really good trainer for those women who are looking for some nice shoes to Zumba in. It is ultra-lightweight, has great performance, support and style. Even though it is not as popular as the other models, the Synergy is really a great shoe to wear to whatever fitness class you may be participating in. The technology utilized in the shoe allow for it to be really comfortable. You can wear it throughout the class and not worry about your feet hurting you. The support is there and it is really a durable shoe.
If you want a shoe to wear to the gym, aerobics and even Zumba, then the Synergy is definitely it.
Ryka Enhance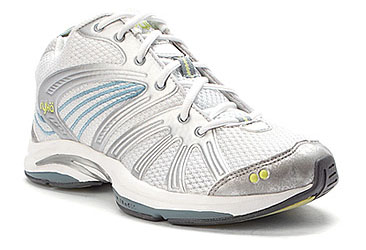 When it comes to Zumba shoes, all the ones above won out on the Enhance. It is not necessarily loved by all, but it is definitely a solid shoe that is ideal for intense dance aerobics classes. The Enhance features the most advanced cushioning system found in Ryka studio shoes. This is great as you can be assured of a comfy fit. The stability that the shoe provides the feet is really excellent. If you purchase these shoes for Zumba, then you can be assured that your feet are going to be well protected. This is definitely a great shoe option.

Get a Great Selection of Frye Engineer Boots

The Frye Engineer Boot has certainly got to be one of the most popular boots from this world famous brand. Men and women absolutely love what the Engineer has to offer, the boot is just amazing in how it looks and feels on the feet.
Looking on a Frye Engineer boot for the first time, you can definitely see why they are so popular. These boots have an unmistakable style and this can really be attributed to the rounded toe, the amazing leather upper and also the iconic buckles that are located on the top and ankle of the boot. Wearing a pair of Engineer boots, you can definitely realize why they are loved by so many.
The good thing about the Frye Engineer is that there are many different models and styles available for men, women and kids. People will certainly be able to find a boot that fits whatever style or look they are going for.
Frye Engineer Boots for Women
Women's Frye 8R Boots – Women who are looking for boots that reach them just above the ankle should check out the 8% Engineer. These boots are really stylish and they really go well with a variety of outfits.
Women's Frye 12R Boots – The most popular Engineer boot for women has certainly got to be the 12R. These boots are super duper stylish and they are certainly a fashionistas must have. These boots are not too high and not too short, the perfect footwear for a woman who is all about style.
Women's Frye 15R Boots – The 15R are the highest Engineer boots from the collection. What is so great about these particular boots is that they look absolutely amazing, especially when worn with skinny jeans or leggings. If you are looking for boots with a little bit of height to them, then the 15R is the way to go.
Women's Frye Rogan Boot – The Rogan for women offers a bit of edge to the Engineer look. So many different women love this particular styled boot, simply because it is different. There is even a edgier look available, when you check out the studded version of the boot.
Frye Engineer Boots for Men
There are many different Engineer Boot choices for men. Each boot in the collection offers something different and unique. It is really up to you to find out what style you are going for and locating the boot that is able to deliver exactly what you want. There are 5 Engineer Boots for men in the collection. They are the 8R, 12R, Rand, Rogan and Jackson.
Men's Frye Engineer 8R Boots – The 8R boots have that classic Engineer look and they do not reach too high above the ankle. These are some really nice boots, as they can be worn dressed up or dressed down. If you want classic styling, then the 8R is the way to go.
Men's Frye Engineer 12R Boots – The 12R Engineer is a bit higher than its 8R counterpart. If you are a guy who is into fashion and style, then this is certainly the way to go. There is really so much that the boot has to offer. This is a definite must have in the shoe collection.
Frye Rand Engineer Boots – The Rand is different from all the other Engineer boots, simply because it comes with 3 buckles as opposed to 2. That change, gives the boot a totally different look and it is definitely a great option for those individuals who are looking for something sophisticated and stylish.
Frye Rogan Engineer Boots – The Rogan Engineer has more of an attitude, compared to the other men's boots in the collection. The distressed leather and general design, results in footwear that has an edge to it. The intensity is increased even more, with the availability of a studded version.
Frye Jackson Engineer Boot – The same classic Frye Engineer look is available with the Jackson, except that it is updated. If you are looking for the Engineer look with a difference, then the Jackson si definitely the way to go. If you take a look at the boot, you will certainly tell that they are absolutely amazing.
Frye Engineer Boots for Kids
It is well know that Frye makes amazing boots for men and women, but they also do a really good job when it comes to the kids. In the case of the Kids Frye Engineer Boot, young children will be getting some really amazing footwear. These Engineer boots for kids will be able to deliver style and quality, just like the adults. If you are looking for some stylish boots for kids, this really is one of the better options out there.
Girls Frye Engineer Boots – Looking on Frye Engineer boots, you can tell that they are extremely stylish. Little girls are going to absolutely love these pull on boots that will look amazing on their little feet. The rich leather upper as well as the many different buckles, results in a boot that is perfect for girls.
Boys Frye Engineer Boots – Little boys are going to absolutely love these Engineer bots. These boots are stylish, versatile and very comfortable. The boot is full of details, from the buckles, leather used and logo found on the top.
Frye Kids Engineer Boots are available for both boys and girls in colors like Black and Brown.

Nice Selection of Frye Celia Boots Here!

There are certainly many different types of over the knee boots to choose from, but we can say without a doubt that one of the most stylish ones out there has definitely got to be the Frye Celia.
For those of you who are new to Frye boots, you need to understand that they are some of the best boots in the world. You can really see this in the Celia, as it is beautifully styled, has excellent craftsmanship and the leather look is absolutely amazing. If you were to wear the Frye Celia Over the Knee Boots, you are bound to get nothing but compliments, we can guarantee it.
What I love about the Frye Celia boot is the fact that it is just beautiful footwear. Because they are over-the-knee-boots, they are going to garner a lot of attention. You can essentially wear them with a nice skirt, skinny jeans, leggings and even shorts. Whatever outfit you choose to wear them with, they should look amazing.
The Frye Celia has a nice leather upper that is very soft to the touch. There is some distressing on the leather, which gives it that nice worn look that should add a touch of style to whatever you are wearing. One thing that the Celia has going for it is that it has a bow at the top. This bow is perfectly positioned to give that girly charm to the boot. The Celia is also very comfortable and this can be attributed to its lightly padded footbed. Wearing the boot out and about will not be a problem, as there is a very strong and durable rubber outsole.
The Frye Celia Boot is available in different colors from Blue, Black, Brown and Taupe.