Nice Selection of Frye Veronica Boots Here!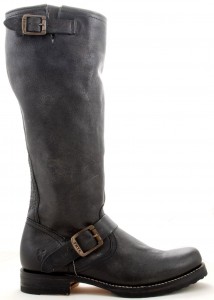 The Frye Veronica boot is by far one of the most popular styles that are offered from Frye Boots. All the Veronica boots are crafted with exceptional care and are made using the best leather and materials around.
The Veronica is really a boot that is a must have in any woman's closet.
Frye Veronica Slouch Boots
When it comes to some of the most popular boots from Frye, the Frye Veronica slouch boot is definitely at the top of everyone's list. These boots are really stylish and fashionable and a must-have for any woman who is in love with fashion.
Having a look on the exceptional leather upper for the Veronica Frye Slouch Boot, you can tell that a lot of time and effort was spent on designing the boot. The boot comes with buckles at both the top and the ankle, which can help women to achieve that perfect fit. The comfort level of the Veronica, can be attributed to its lightly padded footbed. The dimensions of the boot include a 13 1/2″ shaft as well as 1 1/4″ heel, rubber sole.
For those of you who like diversity, the Veronica Slouch Boot can be purchased in a variety of colors. Some of them are: Black Calf Shine Vintage, Black Tumbled Full Grain, Burnt Red, Butter, Cognac Antic Brush Off, Cranberry, Dark Brown Patent, Dark Brown, Grey Patent, Saddle, Sapphire and Slate.
Frye Veronica Slouch Extended Calf
When it comes to a cool option for those people who have wide calves, the Frye Veronica Slouch Extended Calf is really a great choice. There are a lot of times that women will be searching for boots, that have wider calves and usually their search is in vain. The Frye Veronica Extended Calf is just as stylish, it just has a wider fit.
Women, who buy this particular styled boots, will be getting a classic slouchy look leather boots, that is very stylish and trendy. These boots have adjustable straps that can be found that both the top and the bottom. There is also a rounded toe, as well as a 1 ¼" heel. There won't be much discomfort with these boots, as it has a very nice comfy leather sole.
Frye Veronica Slouch Boot Black
The Frye Veronica Slouch Black Boot is the by far one of the most popular colors for this specific footwear. One of the things that makes this boot so popular is the fact that the color makes it very versatile and this enables it to be worn with a wide variety of outfits.
The Black Frye Veronica Slouch Boot is really stylish, yet simple. Just having a look on the boot, you can definitely tell that these are some high quality footwear. You will be able to notice this with the nice black leather upper as well as the nice additions of buckles on the boot.
Frye Veronica Combat Boots
Frye Veronica Combat Boots are edgy and rough looking boots that also has the indelible Frye style that we have grown to love over the years. These combat boots has a leather upper that comes with laces. The rounded toe box gives the boot a very distinguished look. This combat boot fits really comfortably and this is attributed to the shock-absorbing insoles. The heel of the boot is not too high, as it measures 1''.
The Frye Veronica Combat Boot is available in colors such as black and brown.
Frye Veronica Motocross
Frye Veronica Motorcross Boots are very funky and stylish. This particular boots has drawn its inspiration directly from the culture and world of motorcycles. The Motor Corss boot comes with a hand-waxed leather upper, which comes with a nice funky looking buckle.  Taking a look on the upper, you can tell it has a really nice design to it, which is responsible for the edginess of the boot. There is a side zipper, which makes it easier for the boot to be removed. This boot comes with a nice leather footbed, which makes it comfortable to wear around all day. The outsole of the boot is nice and chunky.
Frye Veronica Shortie Boots
The Frye Veronica Shortie Boot is just as stylish as the popular Slouch; the only difference is that it is a shorter styled boot. The Veronica Shortie is really gorgeous and it looks simply amazing on the feet. This is a boot that has an engineer styling about it and this is seen with its nice rounded toe. The stand out is the nice adjustable silver buckles, which really gives the boot a very nice look.
Some of the more popular colors in which the Frye Veronica Shortie is available in are Black, Brown, Cognac Antic Brush Off, Dark Brown, Grey, Olive, Red and Taupe.
Frye Veronica Boots on Sale
For those of you who are looking at getting Frye Veronica boots on sale, then you need to be aware that these boots can never be found on the discount rack, or having  50-75% off sales online.
The Veronica Frye Boot is top notch footwear and because of this, you will be paying much higher prices, compared to many of the other different type of boots out there. If you are on the hunt would like to get these boots for prices a bit lower than retail, then consider yourself lucky. We have listed below, but two best websites out there for you to get amazing deals on this really great footwear.
Zappos.com – We absolutely love Zappos and it is really one of the best websites to shop at. When it comes to the Frye Veronica Boot, they have a very nice selection (Slouch, Shortie, Motor Cross, Combat and Zip Up). They color selection is top notch. Zappos may have a great selection of boots, but they also have the prices to match. Their prices are always cheaper than the other shoe websites. One of the thing that pushes this particular site over the top is that they offer FREE SHIPPING, now how can you beat that.
Endless.com – This site has a very excellent selection of Veronica boots. One thing that we love about them is the fact that their prices are pretty good and if you are looking for a specific styled Veronica boot, then this is one of the best sites to check out.