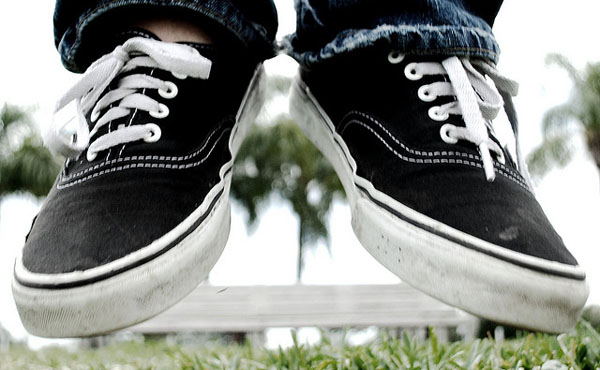 The Vans has been around for close to 50 years and the first shoe that they released was the Authentic. This sneaker was aimed at the surf and skate culture and it was a huge hit in those circles. Over the years, the popularity has grown and it is now regarded as a sneaker that every has to have.
The design is very simplistic, yet it looks really good on the feet. It has a nice skater shoe feel to it, with a very low lace up profile. What really stands out however is the signature waffle rubber soles.
Vans Authentic Lo Pro
Although the Vans Authentic is a unisex shoe, girls may want a more feminine look. In that case, the Authentic Lo Pro is a much better option. It has the same stylish look, just that it is much more feminine. The Lo Pro is extremely fashionable and it is the ideal casual sneaker for the girl that loves to have fun. These shoes can be worn in any setting with just about anything, from jeans, shorts and skirts.
Vans Authentic Kids
The little ones can get with this stylish footwear, as there is a Vans Authentic line for kids. The kids collection is just like the adult one, except that it is catered to children. You will find a ton of funky designs, some specifically for little boys and girls. There are also Authentics for babies and toddlers.
Are Vans Authentic for Boys or Girls?

There are a lot of people who are always asking us if these shoes are designed specifically for boys or girls? This sneaker is unisex, so there should be no problems with boys or girls wearing them. There may be some colors or styles that are released which will cater to boys, while there are some that you can tell are definitely for girls.
Vans Authentic Colors
One of the biggest things the shoe has going for it would be the awesome colors that it is available in. Because there are soooo many color options, you will often find that people own multiple pairs. Because of the shoe's nice design, it really might be a good idea to pick up the Authentic in multiple color ways.
Special Editions
Every year a bunch of Special Editions are released. This not only give collectors something to go crazy for, but it also helps to give the shoe a fresh design.
Image Sources
OUCHcharley. ITS SPRING! (explored) :]. March 22, 2009. Online image. Flikr.com. 14 April 2012.