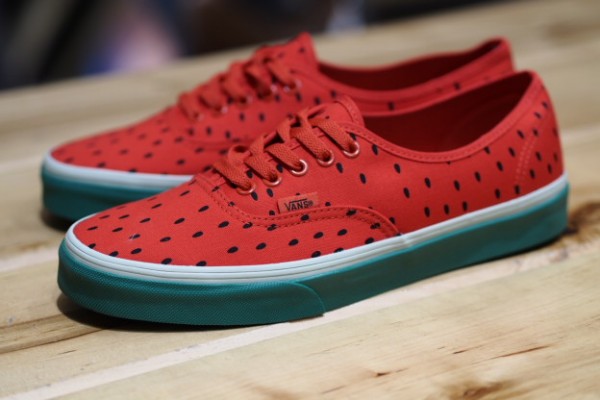 It seems that summer is officially here with the re-release of the Vans Watermelon Authentic. This design was released in 2009 (see below) and it is not getting a reissue, just in time for the summer!!! The name says it all, as essentially you will be looking at a watermelon sneaker. Bright green sole, red upper, sprinkled with black seed dots. This is a real eye catcher and the perfect complement for those hot summer days.
There are some people who think that these shoes are sick and a must cop, while others think that they are too fruity (no pun intended). Whatever your viewpoint, at the end of the day they are some funky shoes. If you want to stand out stylishly or just want a conversation starter, then you will certainly need to have a pair.
So what about the women? – The Vans Watermelon Authentic's is a unisex shoe, so both women and men can enjoy this fruit filled masterpiece.
Where Will I Be Able to Get it? – Once released you should be able to get these shoes at Vans stores or major retailers. You can also check here to see what deals we can dig up.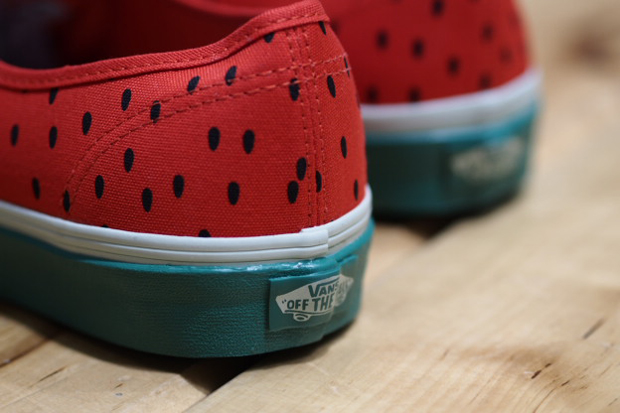 A Look Back at the 09 Vans Watermelon Collection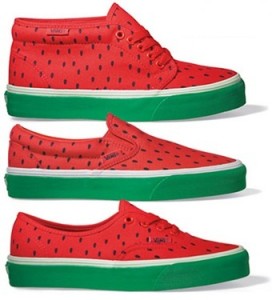 The limited edition Vans Watermelon Shoe collection was released in 2009 to much fanfare and anticipation. I mean, who would not love to have to have some watermelon shoes on the feet. This collection featured the Watermelon version of the Authentic, Classic Slip on and Chukka. A runaway hit at the time.
Check Out This Unboxing of the Chukka
I am sure we all know the feeling of taking those brand new shoes out of the box and enjoying its magnificent beauty. For those of you who are thinking of getting the watermelon Authentic's, then give this video a look.