In my ultimate Zumba shoe guide, I highlighted that Puma was a great collection to check out for those of you who are doing dance aerobics classes like Zumba.
Puma has a pretty good reputation for making high quality athletic gear, including shoes, so whatever they produce will be a quality product. The company has been outshined by other shoe manufacturers like Nike, Adidas and Reebok to name a few. Nonetheless, their footwear is really awesome
The Best Puma Zumba Shoes 2012
There isn't a massive selection of dance sneakers from Puma, but that means you are getting quality over quantity. Below I have selected the Puma sneakers that would be the best shoe options for Zumba dance.
Puma Voltaic 3 NM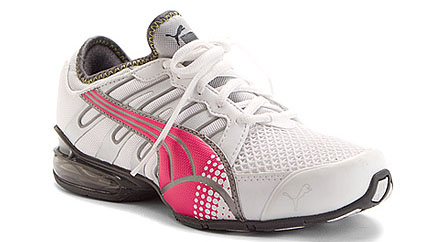 The Puma Voltaic 3 comes in as a great choice for Zumba dance aerobics. This is a sneaker that is designed specifically for running, but because of the cushioning it has, it makes it a good choice to dance in. It has all the features that are necessary for a dance aerobics shoe, from being lightweight, flexible and supportive.
Pros: Supportive, comfortable and lightweight.
Cons: Might be a bit bulky.
Puma PUMAgility XT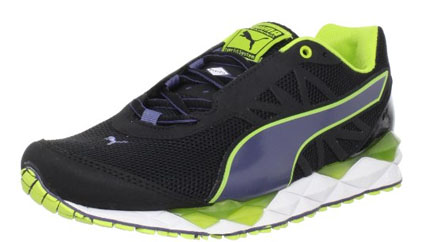 The PUMAgility is a pretty comfortable and stylish sneaker. It has excellent cushioning which makes it great to handle the high impact dance moves. Even though it is a running (see my warning about running shoes below), it is an ideal choice for Zumba dance. The traction is not too much, which means you will not stick to the floor when doing your moves.
Pros: Comfortable and lightweight.
Cons: Might not be stylish enough like some of the other Zumba shoes out there.
Puma Janine Dance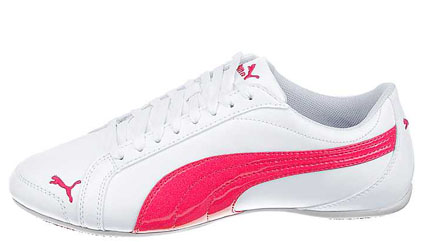 The Puma Janine is one sneaker that is designed specifically for dance. This is a must buy if you are looking for some Puma shoes for Zumba. These are lightweight footwear that's very comfortable as well as supportive. One of the big things is that there is a pivot point under the outsole of the shoe. This is means it will be easier to move about, as well as pull off turns.
Pros: Designed specifically for dance classes. Has a pivot point.
Cons: Not over the top stylish.
Puma OSU NM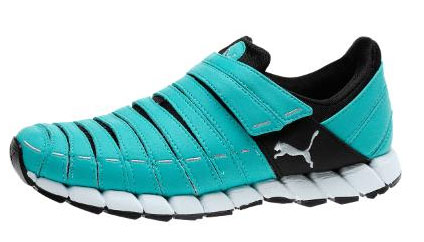 The OSU NM has a pretty nice design to it and this is something that will not only catch the eyes, but it will look good with gym attire. This is an athletic sneaker that has great support, as well as having an excellent cushioning system. If you want comfort, then this is the way to go. It is also very breathable and has great support.
Pros: Nicely designed, comfortable, supportive, breathable and flexible.
Cons: Wish there were more colors. Colors may not be appealing to everyone.
Puma Trainlite XT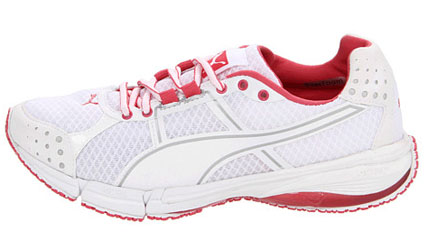 If you are looking for a multi-funcational training shoe then the Trainlite XT is it. This shoe can be worn to the gym, to run and is perfect for Zumba. Comfort is its biggest selling point, so you know it will have a good fit on the feet. In terms of support, there are mutli-directional flex grooves which makes movement a breeze.
Pros: A Really comfortable sneaker. Has a nice design to it.
Cons: Very limited colors.
Forget Puma Running Shoes
When it comes to Zumba shoes, you should definitely stay away from running sneakers. You see, running shoes are designed to give you a lot more grip as you are going to need that amount of traction when doing that intense activity. As it relates to Zumba, the downside to having too much traction is a big problem. In Zumba dance, you are going to be doing various moves from dancing, turning and jumping. Because of this, you are going to want a shoe that will allow you to do this moves with ease, as opposed to be stuck. Having a shoe can also lead to injury.
Features to Look for When Choosing shoes for Zumba.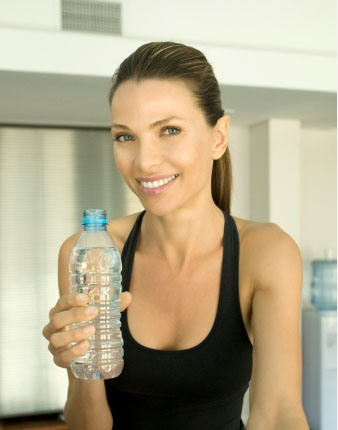 There are certain features that your shoe should have for Zumba dance. I go into detail in my Zumba dance shoe guide, but I will give a quick overview here.
The Shoe Must be Comfortable – Let's face it, you are going to be doing intense physical activity and your feet are going to be bearing the burden of all the dancing and jumping. It is very important that you have shoes that are comfortable and will not hurt your feet after dancing around for an hour. It only makes logical sense to go after a sneaker that is comfortable.
Light – Many people do not take the weight of the shoe into consideration when they go looking for Zumba footwear. Just remember that you will be working out and you do not want to have shoes that will begin to feel like bricks on the feet after a couple of minutes. Luckily, most modern sneakers are lightweight, but this is something to remember when you are going shoe shopping.
Flexible – A rigid sneaker will cause you nothing but heartbreak in your Zumba dance class. When you have a flexible shoe, your feet will be able to twist and move easily, keeping up with the myriad of dance moves that come along with the class. This is why athletic or shoes designed specifically for dance aerobics are important, as they are some of the most flexible sneakers available.
Support – Most sneakers will be able to give you the support you need, but it is still an important feature to consider. You will definitely want a sneaker that will keep the feet in place, especially when you are doing all those moves.