Get a Great Selection of Ryka Transition Sneakers

Getting fit and in shape is the new mantra this year. If you are on the hunt for a new sneaker that is stylish and has excellent performance, then the Ryka Transition is an excellent choice.
If you are looking for a shoe that is perfect for Zumba, or other dance fitness classes, then the Ryka Transition is definitely it. The shoe is able to combine excellent support, cushioning, breathability and stability, to make a shoe that is ideal for studio or dance needs. When wearing the shoes, you will definitely not want anything else.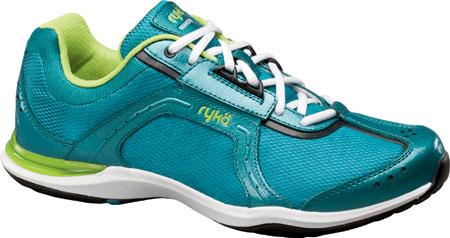 A Quick Review of the Sneaker
Ryka is a company that has created a sneaker collection that is geared specifically towards women. This is actually pretty good for females, as it can be quite challenging trying to find athletic sneakers that fit the dimensions of a woman's foot.
If you are looking for a shoe that will be able to handle the gym, walking, light running as well as high impact classes such as dance aerobics, Jazzercise or Zumba, then the Ryka Transition is a pretty good option. This sneaker was designed with fitness in mind and as such, you're going to be blown away with the performance that it is able to deliver.
Comfortable
The main thing that stands out is that the shoe is very comfortable. You will be able to work out or dance and not have to worry about your feet hurting you after you're finished. The shoes cushioning comes courtesy of an EVA midsole, which will have your feet set in comfort.
Supportive
The shoe features and I.H.G (Infused Heel Guidance) midsole, which will be able to give added support, especially if you are planning on doing a lot of lateral moves. This means your feet will be held in place when you are making your moves whether in the gym or in the dance class.
Great for Dance
The reason why this is a standout sneaker for dance fitness classes, would be the diamond shaped rubber outsole. This outsole does not excessive grip, which means that you will be able to move around, dance and slide with no problems. This is a must when
Stylish
Another great thing about the Ryka Transition would be the fact that it is an extremely stylish sneaker. If you want a shoe that looks amazing on the feet, then this is it. Many women love its design as well as the many different colors it is available in. If you like fashionable footwear, that has a modern contemporary look, this shoe is the stand out.
Conclusion
Ryka has a nice selection of dance fitness sneakers that are all able to deliver exactly what a woman needs in these classes. With the Ryka Transition being the newest one out there, I can certainly say that it is definitely a must get, especially for those of you who are thinking about doing Zumba.
What Others Are Saying About the Ryka Transition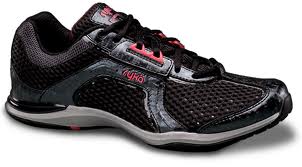 Maria B – "Very lightweight and flexible. I was able to pivot and slide without being held back."
Arrigoni – "I had a hard time finding a good shoe for my zumba class, but I finally hit paydirt when I got the Ryka Transition. It is so comfortable!"
Debbie G – "I have tried several different shoes for my Zumba/Cardio dance classes, and these are by far the very best. They are extremely light, flexible, comfortable and breathable."
Emily F – "These shoes were super cute and light weight. I wore them for one jazzercise class and loved how I was able to move in them."
Features of the Ryka Transition
We can't get over how amazing the Ryka Transition Sneaker is. We already know that that it is very stable, lightweight, supportive and comfortable and this can really be attributed to the technology that is in play with the shoe. Below is a more in-depth look at the different features of the sheo.
The low profile of the sneaker really makes it the ideal fitness trainer.
The shoe is quite breathable, thanks to high density, foam air mesh upper that has synthetic overlays built in. The shoe gets some of the support here and this is responsible for the shoe being really lightweight.
I.H.G. (Infused Heel Guidance) is really responsible for all the lateral support that the shoe has. When you wear the shoe and are doing any of those quick moves, the I.H.G. work together with the midsole to ensure that the foot is always kept in the right position and not sliding all over the place.
The EVA midsole responsible for the amazing cushioning, walking around in these shoes are like a dream.
The shoe has minimal grip, which makes it the ideal candidate for dance fitness classes.
The shoe is not heavy at all, as it weighs in at 9 oz.
Is the Ryka Transition a Good Zumba Shoe?
On this website, I have done a lot of articles related to Zumba shoes. Because I consider myself a guru of sort, I have a good understanding as to which sneakers are great choices for Zumba dance.  Right now, the Transition is highly regarded as one of the better sneakers for any dance aerobics class. It achieved this high rating as it has a proven track record of being comfortable, supportive and flexible. Because it is a training sneaker that is perfect for all sort of dance activities, as well as training, it is a no brainer that it would be a good choice for Zumba.
Available Colors
If there is one thing that stands out about the shoe, you would definitely have to be various colors that it is available in. As I had already stated above, the transition is an extremely stylish sneaker and the different colorways that it is available in, only adds to its awesome look.
You will be able to get this cross-training sneaker in colors such as:
Aqua Sea/Yellow Glow/Deep Navy
Black/Dusk Grey/ Firerose Pink
Tyre Grey/Metallic Platinum/Metallic Baja Purple/White
White/Splash Blue/Yellow Glow
White/Chrome Silver/Fusion Coral/Metallic Steel Grey
What Color I Like the Most? – The two main colors that stand out to me would be the Aqua as well as the White. There is just something about was colors that allows them to give the shoe some awesome style. I am sure many of you who have your favorite color, as it really depends on what you like, as well as what will go well with your workout attire.